3-Stage HVLP Turbine Paint Sprayer Spray gun system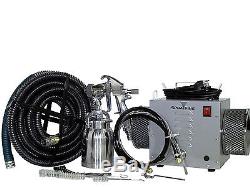 A-301 3-Stage HVLP Turbine Spray System. Efficient 3 stage turbine with dual filters in a louvered case to allow full ventilation and air filtration for performance and longevity. More power and pressure than other 3 stage turbine systems in its class. Includes professional all metal bleeder gun and remote 1 liter siphon cup assembly. Great to spray a wide range of finishes on cars, boats, planes, wood projects, fencing and more.
Comes with super high flex lightweight 25' air hose - perfect for auto painting! Produces 134 CFM (cubic feet per minute) air flow.
Max pressure 6.5 psi. Works with standard 120-Volt household electrical outlet!
Portable, requires no air compressor! 3-stage, bypass tangential discharge turbine motor (motor cooling air is kept separate from spraying air). Filters are economical and easy to replace! Includes all metal all chrome bleeder gun w/1 qt cup and remote cup/gun assembly.
Includes cleaning kit and nozzle wrench. Supplies heated, dry air - no need for moisture traps! HVLP turbine motors produce extremely high volumes of over 100 CFM (cubic feet per minute) at very low pressures (3 - 9) psi (pounds per square inch). Compare this to a typical air compressor set-up of 45 - 60 psi at 8 CFM. HVLP turbines supply air at a much lower velocity producing a softer, easier to control spray. This allows you to lay the paint on gently and not blast it on. Benefits of HVLP include less overspray and less paint wastage. Transfer efficiencies can reach 85%, resulting in 30-50% savings on the cost of paint! The quality of the finish is identical to the best high-pressure spray finishes. In addition, the air from the. Turbine is heated, eliminating any moisture in the finish being sprayed, and speeding up the flash-off rate, reducing runs and sags! In some areas of the USA (Southern California for instance), high-pressure spray systems are prohibited in certain industries.
HVLP turbine systems automatically comply with all known regulations in North America. Professional grade - All metal construction, no rubber or plastic parts - entire gun can be immersed in solvent for cleaning! External packing nut, no need to remove nozzle to adjust needle packing!
Spring loaded air cap moves in and out by simply turning retaining ring - adjust to spray any size pattern! Material adjustment knob - enables you to control paint output, making small items as easy to spray as large items! Works with any HVLP turbine system! Provides the best atomization in the industry! Projector sets available in the following sizes: 0.5mm, 1.0mm; 1.3mm; 1.5mm; 1.8mm; 2.0mm, 2.2mm. Bleeder gun with infinite adjustment of pattern size. Comes with 1.3mm projector set installed: recommended size for medium viscosity finishes such as: varnish, polyurethane, sealer, lacquer, stain, cellulose, automotive, acrylic, oil, creosote, wood primer. Wood Stains, Lacquers, Automotive, Cellulose, Synthetics, Acrylic, Oil. Polyurethane, Glitter Paints, Cellulose, Acrylics, Synthetics, Lacquers, Fluorescents, Wood Stains, Creosote, Wood Primer. Oil Base, Oxides, Primers, Marine Paint, Varnish, Enamels, Multi-Color, Industrial Synthetics.
Emulsions, Oxides, Chlorinated Rubber, Zinc Rich Primers. Hammers, Latex, Oil Base Primers, Enamels, Marine, Masonry Paints, Texture Coatings, Heavy Primers, Water and Solvent Based Adhesives. Spray Pattern Shape : The Spray pattern is adjusted by turning the ears of the air cap into either a vertical, horizontal, or diagonal position as shown below. To change the spray pattern size, screw the air cap ring in or out accordingly. Turning the ring clockwise will make the pattern bigger (and reduce the atomization).
Turning the ring counterclockwise will make the pattern smaller (and increase atomization). To increase the material flow, turn the adjusting knob on the back of the gun counterclockwise, to decrease the material flow, turn the adjusting knob clockwise.
Reduces work normally done by brush. Clean up is fast and easy. Less draping and masking is needed. Cuts material waste from overspray.
Transfer efficiency of 85% or better. Save as much as 50% over conventional spray systems. Sprays all surfaces requiring a fine finish. Maximum control with minimal overspray or bounceback. Meets EPA Guidelines For Low VOC Emissions. Oil or water-based enamels and house paints. WARNING: Respiratory protection is required when using this system. Promt delivary, good communication, thanks. Seems like a solid product, great communication.
The item "3-Stage HVLP Turbine Paint Sprayer Spray gun system" is in sale since Tuesday, December 23, 2014. This item is in the category "eBay Motors\Automotive Tools & Supplies\Air Tools\Spray Guns".
The seller is "turbineproducts" and is located in Jewett City, Connecticut. This item can be shipped worldwide.
Manufacturer Part Number: A-301
Warranty: Yes
Part Brand: Sprayfine
Country of Manufacture: United States
Brand: Sprayfine
Country/Region of Manufacture: United States