DEVILBISS Spray Gun GTI Pro Lite TE20 Professional Paint Gun 1.3mm Nozzle HVLP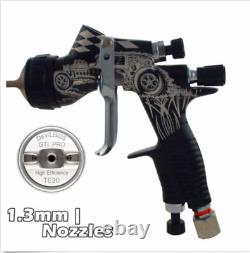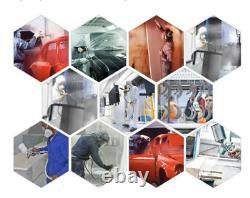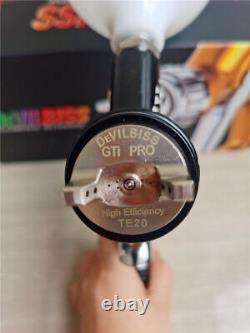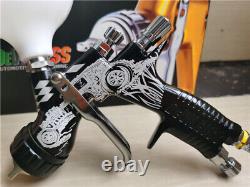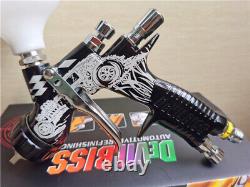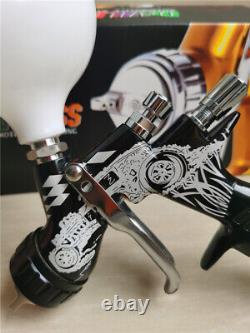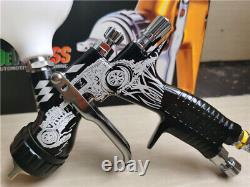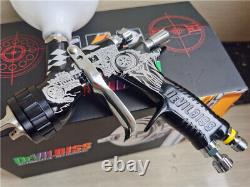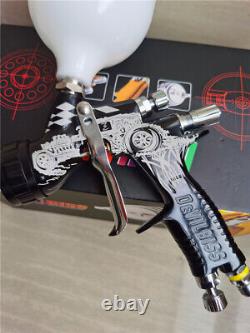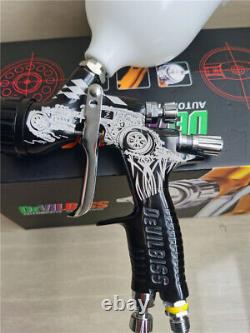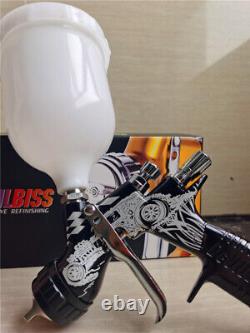 DeVilbiss GTi Pro Lite GTE20 1.3Tips Limited Edition BLACK'Hot Rod' 600ml cup. Limited Edition DeVilbiss GTI ProLite Gravity Feed Air Spraygun with Hot Rod design. Eveloped for busy professional painters needing the ultimate in quality finishes. Ergonomic gun body design with TE20 air cap - Faster flow gloss/lacquer with 1.3mm nozzles.
DeVilbiss Gti ProLite Black Limited Edition Spray Gun'Hot Rod. TE20 Cap with 1.3mm nozzle setups supplied.
The TE20 air cap is for clearcoat with faster flow (especially HS and UHS clearcoats). Application: Clearcoats (especially HS and UHS clearcoats).
Recommended for polyurethane clear coats (in combination with 1.3mm nozzle). Performance: Spray Pattern: 285-300 mm 11-12? In connection with 1.3mm nozzle widely recommended for 2K gloss / clearcoat. The Limited Edition'Hot Rod' DeVilbiss GTi Pro Lite spray gun with TE20 Faster flow gloss/lacquer.
The superior Pro Lite performance is achieved with new and improved design technology utilising free breathing high capacity air passages and a coaxial linear air valve to provide unrestricted and even flow of compressed air through the gun body. This smooth air movement enables the precision-engineered air caps and fluid tips to produce superior atomisation with consistent droplet distribution throughout the spray pattern.
The Pro Lite is precision built using the highest quality materials and component parts for a guaranteed, reliable, long and durable working life in all industrial markets. A drop forged aluminium body with tough anodised external finish, high grade stainless steel fluid tips and needles and nickel plated hard brass air caps all contribute to a gun that can last in the extreme environment of the spray shop.
When routine maintenance is needed then the simple design and easy to maintain format ensures minimum down time and interrupted production. The complete Limited Edition Laser engraved Hot Rod anodized gun.
Gravity cup with paint filter. Set of four coloured identification rings. Weight (gun & cup): 629g. Air Cap Retaining Ring: Clear Anodised aluminium.
Air Inlet Thread: 1/4' Universal. TE20 - Faster flow gloss/lacquer. All round gloss / clearcoat gun.
Flow rate and fan pattern lend themselves towards a wetter application style. Compliant trans-tech high transfer efficiency (but not HVLP).
Fluid tip sizes available: 1.2, 1.3 and 1.4. For 2K gloss / clear the 1.3 is by far the most popular choice and is recommended by the majority of paint manufacturers for their HS 2K products. Air Flow L/min: 360 (12.7 cfm).
Fluid g/m: 170 - 200. Pattern Height: 285 - 300mm.