ATOM X27 HVLP Spray Gun Solvent/Waterborne With Free Ultra Led Lighting System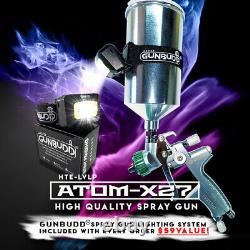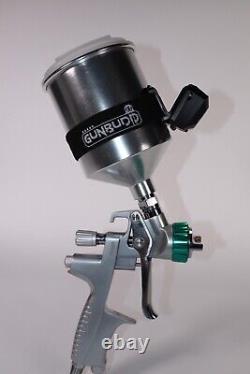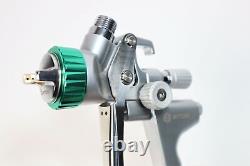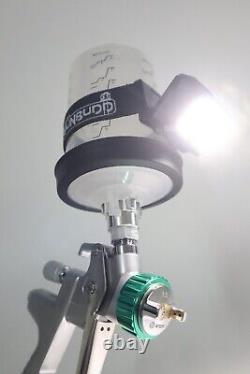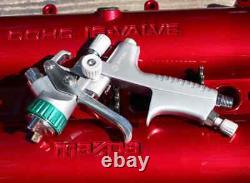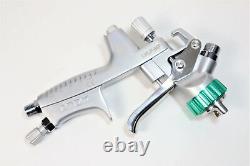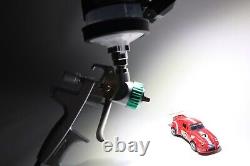 Introducing The ALL NEW ATOM X27 PRO HVLP Solvent/Waterborne Professional Automotive Spray Gun! The ATOM X27 is professionally designed in Dallas, TX and manufactured in Asia. The ATOM Series spray guns are nowhere to be found, only here.
NEWEST line of superb technology spray guns on the market. Your ATOM X27 Pro Waterborne/Solvent HVLP spray gun order comes with a large 1000ml aluminum cup, stainless steel threading/inserts, and you also get a pro mini air regulator included for FREE.
But only ATOM Hyper Atomization Technology that delivers high-performance atomization every time you squeeze the trigger. The ATOM sprays like a SATA without the SATA price tag.
Y ou're getting the best of the best for a fraction of the cost. About 1/3 the price with the same quality and performance. Side by side, we've tested these guns with the priciest guns on the market, and even if you're a paint guru, you will not be able to tell the difference in performance. It will feel'just right' in your hand as you hold it.
Just like it's supposed to. As long as you spray the paint or clear on right...
The finish and high-gloss that you get as a result of spraying the ATOM, is breathtaking. They say the best paint jobs are "one big run".
The X27 will lay your clear on so glossy it will look like glass, or more like water glistening off a dolphin's back. You're getting Japanese/German style, craftsmanship, quality, and performance for a fraction of the cost. ATOM X27 PRO HVLP SPRAY GUN TECHNICAL DATA. The benefits of HVLP include less overspray and less paint wastage. Transfer efficiency can be as high as 85%. The quality of finish that you get is identical to the best high-pressure spray finishes on the market that sell for close to a thousand dollars US. Tip Size: 1.4 and 1.3 Standard tips available for all-around automotive paint and woodwork refinishing. Easily and efficiently spray single stage paints, basecoat clearcoat systems, or filler primer with a larger 2.0 tip kit. Waterborne paints, candy, pearls, and flakes. THE HVLP SPRAY GUNS ARE RECOMMENDED FOR BASECOAT SPRAYING This is what is technically recommended. But if you wanted to spray clearcoat with this gun, you can also do so and get professional results.
The MP-LVLP version is technically a clearcoat spray gun. So if you wanted a base only and clear only spray gun as some experts recommend, then you would get the HVLP for your basecoat spraying, and the. MP-LVLP for your clearcoat spraying.
The 1.3 and 1.4 tips are perfect for all-around base and clear applications, and will also allow you to spray any metallic paints as well as micro sequence metal flakes (as long as you remove the cup filter) to prevent clogging. ATOM X27 PRO HVLP SPRAY GUN SPECS. Sprays Both Solvent and Waterborne Paints. Working Pressure: 26-30 PSI (HVLP).
FAN WIDTH: 1.0" - 11.8". High-Grade Stainless Steel Nozzle and Needle.
1000ml Aircraft Grade Aluminum Cup with EZ-Fit Non-Spill Lid With a Closable Side Air Vent. Powder Coated Steel Finish for Easy Cleaning and Lasting Looks. Anodized Air Flow and Material Flow Knobs. Included for Free 1/4 Male NPT Thread Air Inlet. Included for Free, Cleaning Brush, Spanner Wrench.