HVLP Solvent/Waterborne ATOM X88 BLUEMOON Auto Gravity Feed Car Paint Spray Gun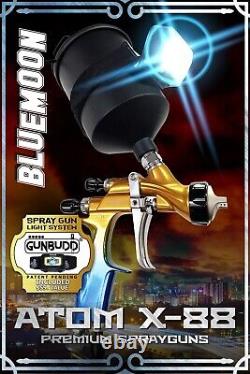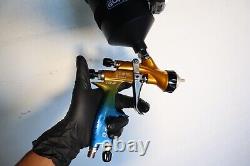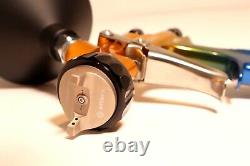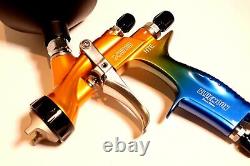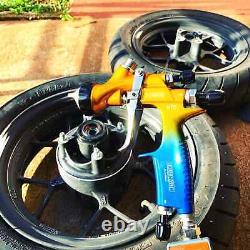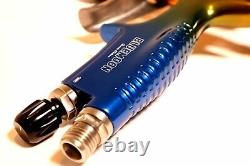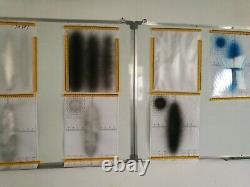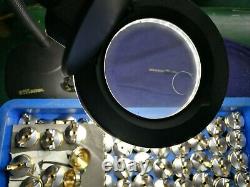 Bluemoon LVLP-MP Solvent/Waterborne Professional Automotive Spray Gun is not your average spray gun! - No fancy images yet, but you still get the same combo kit as the X88 Infinity, plus the free GunBudd lighting system. Please note that all ATOM-X Spray Gun Investments Include a Free with your order!
Secure this ATOM-X88 in this vibrant three-tone non-corroding anodized color combination. The ATOM-X spray guns are professionally designed in Dallas. Be the first to handle and use these professionally built and precision-made spray guns that you'll instantly fall in love with and will last you for years (if you take care of them of course). Your ATOM-X88 Bluemoon Waterborne/Solvent LVLP-MP spray gun order comes with a large 600ml aluminum cup, all stainless steel threading/inserts, and as mentioned above, the GunBudd Ultra Lighting System is included for you for FREE!
The ATOM-X88 Bluemoon spray gun is a two-tip size combo package, so you get both of the most used tip sizes for painting. The 1.3 and the 1.4 tips are included in the box for you. PLEASE NOTE: You will only be getting an additional needle and nozzle for the extra tip size. The X88 black/ or orange air cap lock-ring air cap are reused and work with both tip sizes. The ATOM sprays like an IWATA/SATA without the high price tag.
You're getting the best of the best for a fraction of the cost. Side by side, we've tested these guns with the priciest guns on the market, and even if you're a paint gun guru, you will not be able to tell the difference in performance. It will simply feel'right' in your hand as you hold it.
Just like it's supposed to and spray with top-quality performance. As long as you spray the paint or clear on right... The finish and high-gloss that you get as a result of spraying the ATOM, will simply be speechless. You're getting Japanese/German style, craftsmanship, and performance - Guaranteed. We challenge you to live by the Motto.
High-End Tools & Refinishing Products GUARANTEED. = high overhead due to staff and marketing.
Why pay more when you can get the same & better for less? Try our world-class products today. ATOM X88 Bluemoon LVLP-MP SPRAY GUN TECHNICAL DATA. The benefits of LVLP-MP include less overspray and less paint wastage. Transfer efficiency can be as high as 85%.
The quality of finish is identical to the best high-pressure spray finishes on the market. Tip Size: 1.4 and 1.3 Combo package.
Great for all-around automotive paint and woodwork refinishing. Easily and efficiently spray single stage paints, basecoat clearcoat systems, or waterborne paints, candy, pearls, and flakes.
The 1.3 and 1.4 tip also allows you to spray any solid or metallic basecoats or clearcoats. You can also spray micro sequence metal flakes or pearls as long as you remove the cup filter to prevent clogging. ATOM X88 Bluemoon LVLP-MP SPRAY GUN SPECS. Easily and Evenly Sprays Both Solvent and Waterborne Paints. Working Pressure: 15-36 PSI (MP LVLP).
Aircraft Grade Forged Aluminum Body and Anodized Gun Body Color. Stainless Steel Nozzle and Needle.
600ml Black Powercoated Cup with EZ-Fit Non-Spill Lid With a Closable Side Air Vent. Anodized three-toned beautiful colored design. Anodized Black Air Flow, Material Flow Knobs, and Air Cap.
Included Free 1/4 Male NPT Thread Air Inlet. Included Free Brush and Spanner Wrench. 3M PPS, DeKups, & QKS Quik Kup System DISPOSABLE PAINT CUP & ADAPTOR INFORMATION. The Atom Mini X16, or Full-Size X20, X27, and X88 spray guns work with most disposable cup systems on the market.
Adapters - Use part: for 3M PPS or. Use adapter part: DPC-11 for DeKups system by DeVilbiss. Or, you can use the popular new plastic adapters that we have here that work with PPS and QKS. Your ATOM X88 Bluemoon Spray Gun Order Includes a FREE GunBudd Ultra Lighting System! See the video below for more details.
GunBudd® Patent Pending Instantly turn any spray gun into a beam of bright light while painting any of your projects! Now, you can even spray in the dark! But GunBudd® is also perfect for solving that low lighting issue in your garage or spray booth. Perfect DIY home garage or professional setup plus you have no more cords to get tangled in! GunBudd Easily snaps on to any spray gun cup that you have! So you can clearly see in those hard-to-reach areas! Snaps on your spray gun in less than 5 seconds! Allows you to spray lower rocker panels, wheel wells, door, trunk, and hood jambs, and even in engine compartments with 100% brilliant light.
You will never have a problem with low lighting and shadows. Allows you to spray all types of paint better - Easily blend metallic paint better, spray a more uniform candy coat, spray graphics better, have an easier time with blend jobs, and much more! GunBudd helps you eliminate nasty paint runs! - Most paint runs are caused because of bad lighting in the booth or garage.
Not anymore when you snap on a GunBudd! Makes your paint life much easier - No more tripping on or getting caught up in cords while painting. DIY enthusiasts and professional painters love GunBudd! 95% of our paint jobs are seen in daylight. To compensate for this, GunBudd® projects a daylight beam (5000k - 9000k bright light) onto your paintwork through advanced COB/LED light technology. You have the option of choosing one or the other with the push of a button. The new touchless feature allows you to turn on and off your GunBudd with the swing of your hand!
Up To 500 Bright Lumens! - So bright you'll see everything!
3.7 Volt Fast Charge Lithium-ion 1200 mAh Battery - A long-lasting battery that will never fail you. The included USB cable allows you to quickly charge your GunBudd on the go!
Uses Advanced COB/LED Light Technology! - It gives you an intense wide range of light so you can see your paint lay on like never before. USB Charge Cable Included - This allows you to quickly charge GunBudd in your car, wall outlet, computer, or battery pack charger on the go!
All On Run Time: 6:00:00 Hours. (normally lasts longer because the light is turned off when not spraying). It can be easily used through a complete paint job if turned off during paint flash times. Through our testing, when using a fully charged unit, we never had an issue with the battery life as long as you turned it off while not in use. GunBudd® is a universal spray gun light system that will fit on any spray gun cup!
It will help you shine a beaming light on all of your paint projects to make sure that you get the job done right. Say goodbye to poorly lit areas in your spray booth, or DIY garage..
Just snap on Gunbudd®, and spray away as the COB/LED bright light enhances your view like nothing you've ever seen! GunBudd® allows for more precise spray painting and blending. You'll have an easier time seeing what you're painting, which will also make color blending and custom paint projects a breeze! What are you waiting for?
Snap on a GunBudd® today and just see what you've been missing! Go ahead and order your ATOM X spray gun today, we are confident that you'll love the way it sprays, especially when spraying with GunBudd!