KOTA HVLP SPRAY GUN PAINT WITH 1.3 or 1.4 MM NOZZLE (WithO CUP)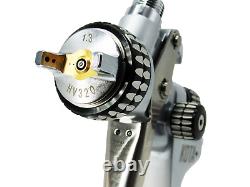 Painters can adjust the inlet pressure and the painting distance according to the paint used, the climatic conditions and their working style - and achieve perfect results in any situation. Robust and light - with ergonomic adjustment elements, the. The KOTA HVLP SPRAY GUN is designed to use a high volume of air at a low pressure to atomize and spray paint, use a large volume of air to atomize the paint particles, which creates a fine mist that can be sprayed onto the surface being painted. The low pressure allows for a more controlled spray pattern and reduces the amount of overspray.
Flexible application: Optimized nozzle concept for various spray distances and inlet pressures. Ergonomic design: Pleasant and compact handle shape combined with easy-to-operate control elements.
Fast assembly: The paint needle can be mounted easily, safely and quickly thanks to the positionally secure clip roller. Fine adjustment: Optimized round / flat spray fan control with a half turn.
Su itable areas of application. Nozzle Size: 1.3 or 1.4 mm.
Spray Gun Body Material: Aluminum. HVLP: Paint spray guns achieve particularly high transfer rates with their low-pressure technology. Fits with Adapter: #2 (not Included).