Anest Iwata WIDER4L-V13J2 1.3mm no Cup successor of LPH-400-134LV HVLP Spray Gun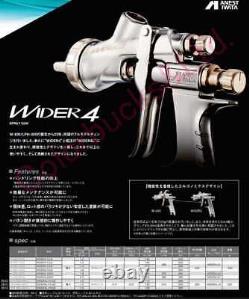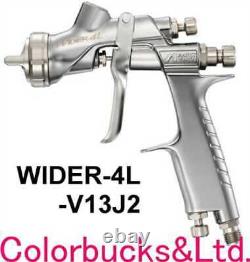 Anest Iwata WIDER4L-V13J2 1.3mm no Cup successor of LPH-400-134LV HVLP spray gun F/S Exepdite SMTB-s ANEST IWATA ANEST IWATA'WIDER - 4L SPRAY GUN W-400/LPH-400, 23 years from the birth. We did a full model cheng waiting. The new reincarnation of "WIDER 4" and low pressure "WIDER 4L" has renewed functionality and design, making it easier to use and more sophisticated than ever before. * For easy maintenance, you can change the screw pitch of the cap and take it off in about half the traditional way.
In addition, a groove was placed on the back of the needle valve for easy on and off. * Personal differences, stable paint with little variation in lot feeling can be achieved, by reviewing the air valve structure and making the opening large and uniform, the pressure drop is low. Reduces variation due to threaded position.
* The pattan opening is intuitive and easy to operate, and the pattan adjustment device is designed to follow the pattan width linearly. Basic performance (cap, nozzle, needle) inherits the traditional style. Adopting ergonomics design focused on function, and the trigger also adopts a shape that improves maneuverability when applying a small amount. We made 25g lighter overall than conventional forms, and we shifted the center of gravity to the hand by reducing the overall length of the body by 3.5 mm and extending the grip by 5.0 mm.
Conventional Format Paint Supply Method Paint Nozzle Blowing Air Pressure MPA Paint Spout ML/ min air usage L/ min pattern open mm blowing distance mm air cap format mass g diameter f mm shape W - 400 - 122G WIDER 4 - 12J2 Gravity Center Cup 1. 20 140 280 230 250 WIDER 4 - J2 355 W - 400 - 132G WIDER 4 - The 13J2 1.
3 160 260 watts - 400 - 142G WIDER 4 - The 14J2 1. 4 210 280 watts - 400 - 162G WIDER 4 - The 16J2 1.
6 240 300 watts - 400 - 182G WIDER 4 - The 18N2 1. 8 320 290 280 WIDER 4 - N2 W-400-251G WIDER 4-25W1 2.5 0.29 555 360 380 WIDER 2-W1 LPH-400-134LV Low Pressure WIDER 4L-V13J2 Low Pressure _ 1.3 V Slit 0.11 110 270 280 200 WIDER 4L-J2 355 LPH-400-144LV Low Voltage WIDER 4L-V14J2 Low Pressure 1.4 130 290 LPH-400-164LV Low Pressure WIDER 4L-V16J2 Low Pressure 1. Paint viscosity 20 seconds/ NK-2?
Paint nipple G1/4 female, air nipple G1/4 male? Traditional paint cup (PCG-6P-M) is not included. Please use "PC-G600P-2 (600ml)/PC-G400P-2 (400ml)" for WS-400/LS-400. WIDER - 4L low pressure center cup gun excellent center of gravity balance?
The paint container is located just above the spray gun, so it has a good center of gravity balance and fits in the hand. Flat thin film pattern with good mist dispersion? Traditionally, water-based paints and high-solid paints that are difficult to fine-grainize are also finished on a uniform surface. WIDER - 4L (formerly LPH-400 type) is a high-application efficient, low-dispersion environmental-friendly low-air pressure spray gun. Wider - 4 (formerly W-400 type) is a general purpose spray gun, but achieved high application efficiency.
This item is in the category "eBay Motors\Automotive Tools & Supplies\Air Tools\Spray Guns". The seller is "favorit_88" and is located in this country: JP. This item can be shipped worldwide.
Brand: Iwata
Manufacturer Part Number: WIDER4L-V13J2
Type: Gravity Feed Spray Gun
Set or Single Item: Single Item
Air Inlet Size: 1/4in.
Custom Bundle: No
Modified Item: No
Country/Region of Manufacture: Japan
UPC: 4538995124099