Devilbiss Dv1-b+ Basecoat Hvlp Plus Gravity Feed Spray Gun 1.3mm Dv1-c-000-13-b+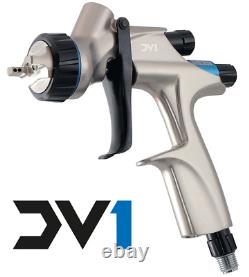 The DV1 is the most advanced, precision engineered professional automotive refinish spray gun ever built to carry the world famous DeVilbiss brand name. No other refinish spray gun is built like it or performs like it. This is not just a new spray gun from DeVilbiss. The DV1 signals a huge technological advance for the automotive refinish professional, bringing unparalleled levels of performance and efficiency. It is a new generation spray gun designed and developed by professional painters for professional painters. The new spray gun does not look like any DeVilbiss spray gun that has been built before, it is very different. In fact, everything about the DV1 spray gun indicates that this is not simply a progression of the GTi Pro. New co-axial air valve design and advanced atomisation technology that out performs every other professional refinish spray gun currently available. For typical HVLP applications the DV1-B is the perfect choice, delivering atomisation like no other DeVilbiss air cap.
For high efficiency air cap performance at low pressure the DV1-B+ delivers performance equivalent. To today's'High Efficiency' air caps. DV1-B+'HVLP Plus' Air Cap. Air Inlet Pressure - 2.00 Bar inlet (29psi).