VAPER TITAN 20300 2-in-1 HVLP And MP Professional Spray Gun Brand New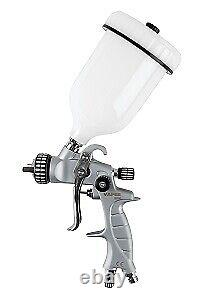 HVLP Technology-Maximizes paint savings for general application such as, single stages, base coats, clear, and water based coatings. MP Technology-For maximum performance, clear coat, faster application speed and lower air consumption. Stainless steel paint needle and fluid nozzle set resists corrosion and wear from abrasive materials. HVLP Operating Pressure: 29 PSI.
HVLP Air Consumption: 10.6 CFM. MP Operating Pressure: 36 PSI. MP Air Consumption: 10.6 CFM. 1.4 mm fluid nozzle.
Includes: Spray gun cleaning kit and optional filter.